Hiking in Nauders
The mountains around Nauders have more then 300km of hiking and mountain path.Comfortable wanderings, alpine extrem tours, mountain lodge and pastures in all altitude.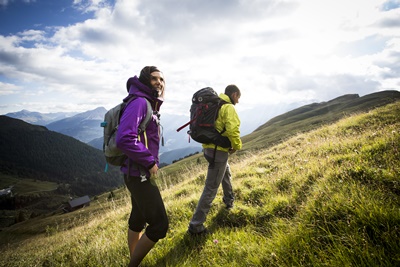 If you don't just want to hike by walking, you can take the mountain railways to the summit and with the Summercard Gold the most are free.
More informations about the summercard you will find here.
They are easy and moderate tours.
Our recommendation for you is the "kleiner Mutzkop", "Schwarzer See" and the "Grüner See" trip:
The starting and ending point of this round is the Mutzkopf lift. The hike takes approx. 4 hours approx. 10 km. The impressive natural landscape along this path will inspire you. Between the Swiss border and the Reschen Pass are the two heads and two beautiful mountain lakes. The Green Lake and the Black Lake. Every year in July, the breathtaking white water lilies bloomed in the Black Lake. The special thing is that these water lilies bloom at the highest location in the Alps. After a pleasant walk around the Black Lake, we continue to the Green Lake and further down to the valley station of the mountain railway.
More informations you will find here.